Auctions for Laptops and eBay alternatives
Custom Search
Auctions for laptops are relatively easy to find online with sites such as eBay dominating the online auction sector. However, there are a multitude of risks associated with trading on eBay including the potential for fraud, easy infiltration of scammers and false descriptions on goods – particularly important if you're just ordered an expensive laptop.
In this article, we expose the flaws of the eBay system, the loopholes for fraudulent buyers and sellers alike and the alternative, but safer and more secure systems for finding auctions for laptops online.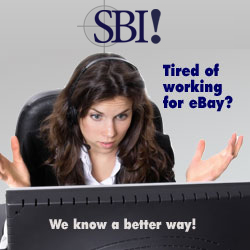 The company eBay doesn't just own it's vast auction network, but a whole portfolio of online products including Skype - the VoIP online messaging service that allows users to call each other for free, PayPal – the online payment and money transfer system and Gumtree – the free-for-all classified advert directory.
eBay uses it's reputable online auction business along with PayPal to supposedly create a secure environment for transactions. However there are several flaws with the PayPal system.
1 - PayPal can restrict user activity without warning or explanation, freezing your PayPal funds and online payment activity. Although PayPal do then provide a page with steps to 'remove limitations', even after completing these it can take several days before your account is returned to normal.
Your account may even be frozen because of someone elses actions – as a precautionary measure. For example, Person A searches 'auctions for laptops' on eBay and buys a Dell from Person B. Person B was recently involved in a PayPal dispute over some auctions for laptops from Person C. Person C was acting fraudulently, but PayPal freeze all three accounts.
2 – The system has no security measures. Although 'verification' is quite detailed (to become PayPal Verified, you must complete a series of steps such as setting up direct debit with your bank account, showing a recent bill in your name etc.) there is nothing to stop users from scamming buyers, emptying the funds into their bank account and then closing the account. PayPal are obliged to delete their details, which means they cannot trace the fraudster when the buyer turns around and complains.
3 – Further fraudulent action can be taken by scammers over the shipping. PayPal works on a simple policy is that if the seller can confirm a package was sent to the buyer, they're in the right. Therefore there's nothing stopping the seller posting a brick via recorded delivery and claiming they were in the right.
Equally, buyers can claim nothing was sent from the seller if they didn't send the goods via recorded delivery. This means that the buyer can put up a dispute, and without recorded delivery it's hard to prove the goods were sent (or crucially, arrived) and so the buyer can win the dispute and get their money back.
PayPal is designed to be simple for buyers to send money, with a 0% sending fee. However, the security issues behind it, along with their willingness to freeze peoples accounts regardless of the situation. PayPal can also link frozen accounts to your eBay account, and have action taken on that as well.
Since eBay own PayPal, they promote PayPal as an online payment option. They brought in a condition whereby every seller must offer an online payment option – where the only option eBay allowed at the time was PayPal. Recently, they've allowed a few others to join the bandwagon but PayPal remains their central payment system.
Given that you have little choice but to use PayPal on eBay – it's better to look for alternative marketplaces when browsing auctions for laptops.
---
So here's our little auctions for laptops secret...
The outstanding success of eBay has indeed shadowed it's less established rivals. But this in turn isn't necessarily a bad thing. Because there is less consumer awareness of these second-tier online auction marketplaces, there's less competition for the goods, including auctions for laptops.
Second-tier online auction companies have to market hard to drive traffic and raise awareness under the might of eBay. These include incentives such as free listings, plenty of online payment options and special deals to new users.
Free listings encourage sellers to put up all their stock, often on 'Buy It Now' listings which results in abundant choices for buyers to choose from. Given that the sites don't receive nearly as much traffic as eBay, sellers often discount hard – a common marketing error, but understandable. This is only good news for buyers who stumble across the bargains available!
Of course, finding a reputable brand is difficult, so we've found some great online auction companies which we've personally used and trust with auctions for laptops:

> eBid
eBid is one of the largest second-tier online auction houses. With a huge selection of categories, lots and sellers – offering several incentives to sellers to list items including free listings.
eBid partners with Pppay.com, an alternative online payment processor which offers a 99p escrow service – although they also allow other payment processors including PayPal, Google Checkout. This choice is crucial for both buyers and sellers. Assume PayPal freezes your account, with eBid you can still trade but via another service. On eBay, your stuffed!
eBid has 3 different membership levels:
> Buyer
For standard members looking to buy only via eBid. You register, and have to verify your email address by clicking a link.
>> Seller
For casual sellers. Similar to Buyer, but you have to register a credit or debit card with eBid so they can charge you fees. Upgrading is free, as are listings. You pay a simple, transparent 3% fee on any sales, much better than eBay's complex tiered system which starts at 5.25%.
>>> Seller+
For eBay PowerSellers, it's a dream. You pay a one-off upgrade fee, and that's it. No more listing fees or final value fees! You buy a subscription from a one day, all the way to a lifetime subscription. That's right, no fees for life!
There are some extra fees you can add to make your listing stand out, some available only to Seller+ members. Get listed on the Homepage for £2.50!
eBid's generous seller scheme encourages regular, and trusted sellers to establish their business at eBid. But the lack of buyers still leads to heavy discounting, on everything from auctions for laptops and notebooks to the kitchen sink!
Registration is free, easy and quick.
>

UK bargain hunters register here
>>

US bargain hunters register here
---
What is escrow?
Escrow is when people send payment via a third party whilst the transaction takes place. For example: Person A searches auctinos for laptops and buys a Toshiba mini laptop from Person B. Person A uses an escrow service offered by Person C. The money goes to Person C who holds the money until the laptop is delivered.
Upon delivery and the buyer, Person A is happy with the goods, Person C – the escrow – passes the money on to Person B. Should there be a problem, Person C holds the funds until both the buyer and seller come to an agreement.
Escrow services are great when buying from a new or unfamiliar seller. Always ask sellers if they accept escrow. Typically, if they say no – they've had a "previous bad experience" etc etc. – you should steer clear.
PayPal do NOT offer an escrow service.
---
> CQout Perhaps you've never heard of CQout (pronounced 'seek-you-out') but they're in fact Britain's second largest online auctioneer – a testimony to the strength of the eBay brand. What makes CQout auctions for laptops different – security.
CQout strives to make itself the most secure online auction house in the UK. They have built multiple features into the website to enable users to trade in a safe place to buy and sell in auctions for laptops as well as other goods. Here's a list of security features:
> CQout EasyPay
CQout have installed their own payment system allowing users to send and receive funds without signing up to third party accounts. The rates are charged to both the buyer (1%) and seller (3.5%) subject to a minimum fee of 25p. CQout EasyPay is the quickest method transferring money.
> CQout SecurePay
CQout have installed another payment system called CQout SecurePay – their in-house escrow service. This allows buyers to be sure that the goods are in good shape before the seller receives the funds.
ALL sellers must accept CQout SecurePay. This totally eliminates the chances of a fraudulent transaction.
Users should only use trusted escrow sources. When passing money to a third party, be careful not to be scammed. CQout is a registered company with prompt email and telephone replies.
CQout SecurePay costs the seller nothing. All fees are footed by the buyer at a rate of 4.9% + VAT (subject to a minimum fee of £2.50). Sellers get immediate payment direct to their bank account, there's no risk of chargebacks and 100% protection against fraudulent buyers.
For buyers, it gives total peace of mind and guaranteed refunds if the goods aren't as described.
> CQout Trusted
If a seller provides consistent good quality service, receives positive feedback and is a genuine seller, they can apply for the CQout Trusted scheme. New users are as eligible as older users.
The application process involves providing a copy of the seller's returns policy or a statement of how the seller will deal with refunds and complaints. They also have to provide a recent utility bill or bank statement showing their name and address – this is cross-referenced with the users existing records.
So if you have concerns over a sellers lack of feedback or the fact that they're based abroad, you have a guide as to how reliable they are as a seller.
CQout maintains that the Trusted sellers is only an indication, and not a guarantee.
> CQout Trade Seller
Trade Sellers get a badge declaring that they conform to UK Distance Selling Regulations (DSRs) like an established shop online, on the television, phone or mail order. UK DSRs include a right to clear information about goods and services before purchase, written confirmation, at least a 7 day cooling off period where the consumer can return the goods as well as offering protection from credit card fraud.
Trade Sellers are not to be confused with Trusted Sellers.
All users must pay a small registration fee before becoming a member. A pain you might say, but it deters trouble-making users. Think about it – if you and every other user can be bothered to go and fetch your card, and can trust CQout enough to enter your card details then it creates a premium selection of buyers and sellers who genuinely want to trade on CQout - a community.
All in all, CQout is the most secure online marketplace for the general public, private individuals and companies. If your fed up with fraud on eBay, try CQout now and join a community of dedicated buyers and sellers.

So there you have a set of safe, secure auctions for laptops where you can save money in a secure way. But of course, don't go and share it with the world – don't you want all auctions for laptops to yourself?
Want more tips and resources like this? Subscribe to our monthly newsletter and get EXCLUSIVE offers and buying tips on auctions for laptops and more!